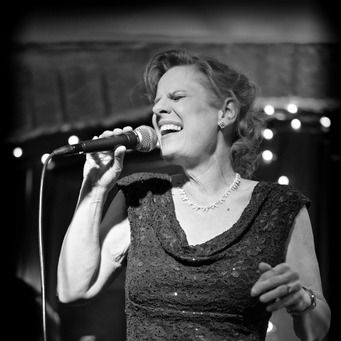 People have said...
Words can't begin to describe the utter joy of hearing this lady sing again in person after many years. Today's performance was at the Cabaret in Albion, and to hear the Judy Garland songbook sung with such conviction touched my heart. As an added bonus the pianist evoked the stylings of Fats Waller. Thank you Ann Mitchell for knocking it out of the park! - Raymond S. (8/8/23)
"If you haven't heard Ann perform before you're in for a real treat! Her song selection and style will take you back to a time when jazz stylist were famous. You won't believe your ears." M.F., Friga Financial - 3/23

"We listened to your show [on Jazz 90.1] the other night. You were FABULOUS!!!!" - text from a listener
Wonderful show Ann & Band. Listened to all of it on the radio, but I felt like I was at a nightclub. Great job John & Kyle on keyboards & bass. Thank you ALL! - comment from social media regarding our 2/16/23 Jazz 90.1 live concert
"Thank you so much for participating in the Town of Pittsford/Chamber of Commerce's annual Candlelight Night event! Everyone really enjoyed the musical festivities and I have to say per the patrons "You were Fabulous!" (as always). Please send along big thank you's to John and Sheldon as well. You guys know how to have fun!" - Melissa Desir-Spinelli, Adult Services Librarian Pittsford Community Library (12/22)
"Ann Mitchell Trio was stellar this afternoon at the Hochstein at High Falls lunchtime concert." - Brandtatorship, Rochester NY (6/22)
"Your singing is top of the line ... I love the Miss Peggy Lee songs you sang." - Emilio Palame, Accompanist/Conductor for legendary Miss Peggy Lee
[photo by Jack Zuff, JazzBuffalo]
"It was another spectacular night for the evolving JazzBuffalo book as we opened a new chapter with the first-ever Jazz in the Pan Am Room at the iconic The Terrace at Delaware Park! We welcomed jazz vocalist Ann Mitchell from Rochester to provide the inaugural performance on the Pan Am stage. What a performance it was! Accompanied by two superb musicians, John Gabriele on piano and Kyle Vock on bass, Mitchell and the trio treated the audience to a repertoire of jazz classics sung by many of the greats. Ann Mitchell's animated stage presence warmly engaged the audience. While a new face and voice in these parts, the audience quickly embraced Ann's and the trio's enthusiastic performance. Including captivating solos by Gabriele and Vock that received applause each time. Judging by the standing ovation from the audience, it is evident the Ann Mitchell Jazz Trio will be welcomed back to Buffalo." Tony Zambito, JazzBuffalo (11/6/21)
"… last nights first jazz in the Pan Am Room at The Terrace at Delaware Park! What a way to start this weekly event with special guest The Ann Mitchell Jazz Trio! She is one of the New York State's Central Region's top Jazz Vocalists! This was one of the best shows this year! Hope to see her back! - Jack Zuff, Photographer, JazzBuffalo (11/6/21)
Happy New Year Ann!! You and John were amazing as always last night...what a great performance and start to the New Year!! Thank you both! - Giovanni, Prosecco Italian Restaurant, (1/31/19)
Ann is fantastic! A true professional, phenomenal talent and a great person all rolled into one. We are fortunate to have her music in our own home town! Nancy D, The Pearlz Band (8/ 23/ 2019)
My only programming suggestions would be the addition of a few more of our considerable local jazz talents (though I recognize our jazzers also have the benefit of the city's jazz festival in June). Of course, it is impossible to see everything — or even close to everything — in a festival that includes 500 performances. But, we found several winners. They included: Ann Mitchell's tuneful tribute to Peggy Lee.
Jack Garner - Rochester Democrat & Chronicle (Sep 25, 2016)
I visited Rochester last month for the Corn Hill Arts Festival. I think it was my fourth visit this time. Well anyway, I'm a big jazz fan. I looked for your group that morning and I truly enjoyed the music. Photography is my other passion so I combined the two and came up with a nice video of your group. - Richard K, PA - personal email
You have a very good ear for what sounds right and what you need to get your music across properly to the audience. - Matt B, Recording Engineer - MacMaster Recording
Well worth seeing. She is passionate about her music and has fun at the same time. - Dennis P.C. [website comments]
I would endorse you to anyone or any organization! You would be a phenomenal addition to any professional endeavor as you are simply the best as a wonderful singer with your trio, and an all-around entertainer! I love your singing voice and your varied selections of songs from the" Great American Songbook"! Your audience always feels uplifted from your nostalgic music, and your voice is always dynamic and reminiscent of the great Big Band singers from that golden era of music. Best Wishes as always! - Donna Silverman, Central Library, Rochester NY
Hello Ann, Caught the later part of you show on Jazz90.1 tonight……I thoroughly enjoyed what I heard. Being a sucker for ballads, I especially liked "What a Difference a Day makes". Everything I heard sounded completely professional, and I like your style. I hope that we can get out to hear you sometime next summer. - Dave F., email
Best music I've heard in a long time. Great songstress…great keyboard man… excellent bass man and drummer. Hope to hear you all again in the not too far future. Take care, Bob B.
Ann. You have a beautiful voice! Regards, Shirley
Thank you for helping make ImageOut's closing night party such a fun celebration! You were wonderful! - Mike Clark, Event Coordinator
Ann is a true professional with an enormous amount of talent. She is a highly skilled and dynamic vocalist who never fails to entertain and connect with her audiences. I've had the good fortune of experiencing her performances over many years and she never disappoints. You can't go wrong with "Ann Mitchell Jazz!" - Ira Fair, General Manager, One Source Rehearsal & Performance
Thanks Ann. Everyone loved you. Thanks for supporting ImageOut! - Kevin J Fuller, Business Manager, Image Out Film Festival (Oct 2011)
Thank you again for the fabulous performance on the 13th. We've gotten lots of positive feedback from the library patrons, including members of our Friends group - saying their money was well spent. Another patron wrote that the performance "blew me away." I personally appreciate all the time and effort you all put into the event. See you next year! - Kory Yerkes, Brighton Memorial Library (March 2, 2011)
Dear Ann, Thank you for joining us at Clothesline. Saturday was a wonderful day and you and your band were amazing! Many MAG employees, volunteers and visitors commented on how much they enjoyed your performance. We will definitely keep you in mind for future events. Best regards, Debora McDell-Hernandez, Memorial Art Gallery.
"If You haven't heard her sing, you must come out and hear an outstanding performance." Jean C, Ontario Beach Harborfest Committee (Jun 26, 2010)
Dear Ann, Thank you again for the wonderful concert you gave on Sunday - Everyone loved it, and we've had some requests for more of your music. Thanks! Kory Yerkes,- Brighton Memorial Library (Feb 19, 2010)
Ann is a dedicated, enthusiastic songstress with a rich, jazzy vocal style. Her knowledge of repertoire is amazing, her style is engaging, and her devotion to communicating the music is complete. Cecile Saine, Eastman Community Music School (2008)
The Ann Mitchell Jazz Quartet gives JINGLE BELLS some righteous jingle and bop. Frank De Blase, ' City Newspaper, Rochester NY (Album Review, Nov, 2006)
Dear Ann, Thank you for presenting such a stirring performance of popular music for the audience. You received so many positive remarks from guests as they left for the evening - they really appreciated the song list and the way in which you presented the material. It was a pleasure to have you as a performer at Strong National Museum of Play. You were very pleasant to work with and your band was top-notch. I will definitely keep you in mind as we assemble future programs. Thanks again, Steven P Lee-Davis, Strong National Museum of Play (Oct 23, 2006)
Dear Ann, On behalf of the CORN HILL ARTS FESTIVAL staff, I want to say thank you for your performance on Saturday July 9th. Your performance was well received by all who attend and everyone on my crew commented on how much they enjoyed working with you. Your fabulous jazz music and vocals were a wonderful addition to our day. I would recommend you and your band as a great fit for any type of arts or music festival. It was our pleasure to have you as part of the festival this year. Sincerely, Michael "Woody" Woodward, On Key Productions (Jul 20, 2005)
You were absolutely incredible at our cocktail hour! Kristen and Joe (Oct 12, 2002)
Ann, I want to tell you how grateful we are for all your help planning the musical portion of the wedding ceremony. You put a lot of time and energy into helping us choose just the right songs and it was very much appreciated. You did a wonderful job and sounded beautiful. There were so many comments on the quality of the performance and the choice of songs. Father Dennis was especially pleased! You really made it a special ceremony that we will always remember. If we can ever serve as a reference for future work, don't hesitate to call. Thank you again for everything. Maggie - Maggie Brooks, Monroe County Executive (Dec, 2001)